Toyota comes to pick up another ATEX-modified machine!
Geplaatst op 15 February 2019
Mitrex has been working with Toyota Material Handling for many years in various countries in Europe. Now they come to pick up their forklift truck that has been converted to Category 3G equipped with an active infrared gas detection system that can be used in Zone 2. This system always keeps the driver informed about what is happening in his or her environment regarding the risk of explosion.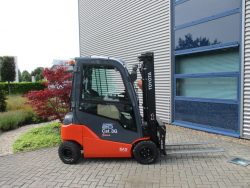 Want to know more about what is possible for you? Please contact us!