Safety inspections should not stop for the Coronavirus
Geplaatst op 22 April 2020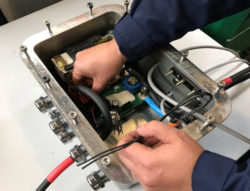 After our minister's press conference on 21 April 2020, the message is clear: we will continue with the corona approach in the Netherlands. Washing hands, staying at home as much as possible, working from home, keeping a distance – all measures advised to us by the experts – will be extended.
During this coronavirus pandemic, many industrial, production and logistics companies took the step of denying external parties access to their premises. So what does this mean for the repair, maintenance and inspection of your explosion protected equipment?
As always, safety is the top priority at Mitrex. We fully understand that measures have been taken to restrict external visitors to a site in order to protect people and reduce the spread of the coronavirus. We would also like to express our appreciation to our customers who work with Mitrex explosion protection systems in certain critical sectors during these unprecedented events.
Nevertheless, it is important that all internal transport working in potentially explosive atmospheres is still well protected. If the maintenance or repair requirements for this equipment and explosion protection systems are overlooked, this poses a very serious risk to both users and suppliers.
RIVM recommends that planned maintenance, repairs and statutory inspections should be regarded as essential ongoing activities.
Your annual safety inspections (ATEX 153) for material handling should still take place. So, how can we help you?
Firstly, if we are allowed to enter your site, our service technicians can still visit your site to carry out an ATEX 153 inspection or other maintenance, provided that the government's rules on social distance are strictly adhered to and the necessary hygienic measures are taken. You can now book a service visit as you would normally do. Our employees in the service department are fully operational and can be reached using our usual contact details.
Secondly, if we are unable to enter your site but you would like an inspection, service or repair, please contact us so that we can discuss how we can meet your specific requirements. There are several measures we currently take with customers to comply with their safety rules, as well as guidelines from the Dutch government and RIVM.
These are unprecedented times, but it remains important for all of us to protect people.
If you need more information or advice, please send us an e-mail or call +31 186 604 485.
Stay safe!